We love a bit of flash fiction here at Writers' HQ — it's a fast 'n' fun way to inject some inspiration into your writing and hone your storytelling skills into an itty bitty microfiction masterpiece.
So whether you're completely new to the art of micro fiction or a flashy afficionado, we've compiled a list of our best resources, courses, and assorted sauces to help you write a tiny story with BIG impact.
Grab a pen, boil the kettle, and let's go.
1. Five Days of Flash – FREE Flash Fiction Course
Yep, that's right. Your first introduction to flash fiction in the shape of our Five Days of Flash online writing course, and it's totally free. Costs nothing. Gratis. We're giving it away. Have it. It's yours.
Over five days (or however long you want to take), you'll learn the fundamental secrets of flash, forge your very own flashy voice, and write your pants off with the help of irresistible writing prompts.
You'll walk away with five brand new story drafts, a whole heap of techniques and approaches to flash fiction, and the confidence to craft perfect little literary masterpieces.
2. Flash Face Off – FREE Weekly Writing Challenge
You know what else is free? Our weekly Flash Face Off challenge — a flash fiction incubator, if you will, that gives you the inspiration, feedback, and oomph to write, redraft, and even perform your stories live at our Friday night spoken word event!
Here's how it works:
Every Saturday we release a fresh set of prompts and challenge writers to pen a <500 word story on a theme.
(Or warm up with #MicroflashMonday on Twitter and see if you can come up with a 249 character story!)
You then have until midday Thursday to write and post your story on our wonderful community forums for feedback, comments and general applause. (Gold Star WHQ members also get a cheeky Tuesday morning FFO write-along session to discuss the prompts, exchange ideas, and write together in one of our virtual sessions.)
And each Friday, our open mic hosts will invite a handful of authors to read their stories at the Flash Face Off online event.
It's a fantastic way to practice your flash skills, get peer feedback, and build your confidence with The Most supportive writing gang ever. Since FFO started in 2020, our writers have gone on to publish hundreds of stories, win prizes, and feature in pretty much every flash fiction shortlist out there.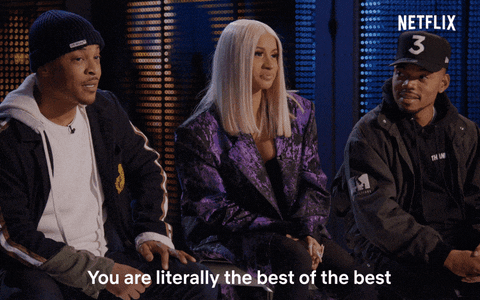 3. The Beginner's Guide to Flash Fiction – everything you need to write GREAT flash!
If you're ready to dive into a comprehensive guide to the world of flash fiction – from structure to characterisation to how to get published – then our Beginner's Guide to Flash Fiction online writing course is for you.
Immerse yourself in 6 weeks' worth of online writing course content (but take it at your own pace – all our courses are designed to be completed in manageable chunks!) and emerge as flashy as a mirrorball.
Seriously, it's a behemoth of flash advice, techniques, guidance, examples, and exercises to give you a solid foundation for writing great flash.
PLUS you can access it all for just £10 when you bag yourself a Gold Star Writers' HQ membership.
4. FREE writing exercises & prompts!
In need of a quick writing prompt to inspire your next piece of flash? Look no further.
Our blog is full of story-provoking writing exercises to get you started, explore your creative strengths, and have fun experimenting with flash fiction. From playing with perspective to subverting tropes to turning a day out into a story, there's a prompt for whatever mood you're in.
5. Learn the craft of writing flash & short fiction from the experts!
Check out our collection of articles on the craft of short fiction writing to discover even more tips and techniques on the process of writing flash fiction, using imagery, building structure, getting a lil' weird with your stories, and even how to create a novella-in-flash — with guest blogs from published and award-winning flash authors.
Phew. That's a whole lot of stuff, right?
Pick your starting point, jump right in, and have a go! Our amazing writing community is here to help you out if you need advice and feedback, so join in with all the flashiness and get those stories out of your head and onto paper.